There might be several kinds of issues of updates of Elemailer. Please check if you are facing one of the below errors and follow the given solution.
You don't see an update invitation in your WordPress dashboard? #
If you don't see an update invitation, first you need to check and make sure your license is activated by going to your wp-admin > Elemailer > License.

If the license is activated and you haven't received an update invite to force check, go to wp-admin> Dashboard> Updates > Press check again. It should then show the update invite.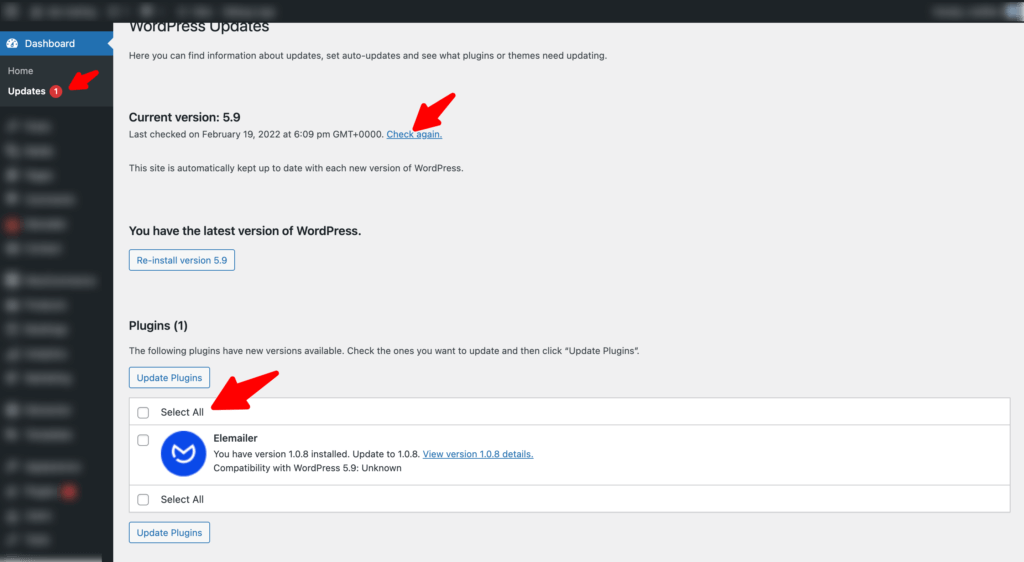 An error occurred while updating Elemailer: Download failed. Unauthorized #

If you are receiving this error, please go to your wp-admin > Elemailer > License > and make sure the license status is activated. If it is but you still received the error, click Revoke license. Again follow this guide to activate the license again and then try to update again.

If the issue persists, please revoke the license by going to Elemailer > License tab, then delete the plugin Elemailer. Don't worry, your data is still safe. After this go to your account with us and download the latest version of elemailer from there and install it. Activate the license with the license key.
If you still face any issue please get in touch with our support and we will resolve the issue as soon as we can.